Download episode
Travel from state to state in Australia, and one of the first things you'll notice is how the local beer changes… or doesn't change, as the case may be. This episode, John and Kev find out whether any of the local favourites of Australia's various states actually stand out from the crowd.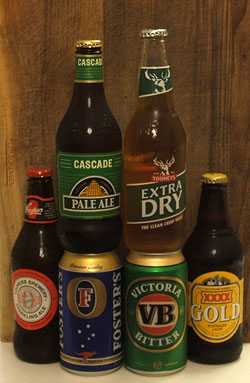 Happily, this also meant drinking a lot of beer.
Beers tested:
Cascade Pale Ale


(Tasmania)

Coopers Red


(South Australia)

Foster's Blue


(nobody drinks this)

Tooheys Extra Dry


(New South Wales)

Victoria Bitter


(Victoria)

XXXX Gold


(Queensland)
Listen in for the results!
Also mentioned: